Lawyer Rating and Reviews
Ethics and Professionalism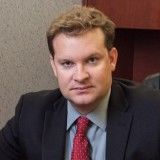 Mr. Duffy possesses the requisite local knowledge, skill and focused expertise to create exceptional legal outcomes in his cases AND he employs those assets for his clients.
View More
›
Q. How do you know this lawyer?
Current or Former Co-Worker/Colleague
Worked together in several Orange County criminal defense firms.
Q. In the cases you were involved in with this attorney, which of the following apply?
Same Client
Represented Me or My Company
I Represented Them
We worked together at several different law firms over the years and have handled matters for one another.
Q. When did you work with this lawyer?
2009-2010. 2011-2013. 2017-2018.
Q. Was this lawyer an effective advocate/counselor and why?
Yes
He obtained the desired result, which was the most favorable reasonably expected under the circumstances.
Q. Please rate this lawyer on the following:
Legal Knowledge:
Excellent
Mr. Duffy has worked for and with some of the most effective DUI lawyers in SoCal. He possesses knowledge superior to
Legal Analysis:
Excellent
Mr. Duffy has handled so many of the same types of cases, he has been focusing on minutia for years. This depth of knowledge enables more penetrating analysis of legal matters, which leads to better dispositions.
Communication Skills:
Excellent
Mr. Duffy speaks in clear, concise, common terms when necessary and in the most sophisticated legaleaze when helpful.
Ethics and Professionalism:
Excellent
Mr. Duffy is known as an upstanding member of the bar whose abilities raise him well above the need to compromise his utmost ethical professionalism in any way.
Q. For which practice area(s) would you recommend this lawyer?
DUI, Criminal, traffic tickets.
Q. Which of the following skills does this lawyer possess?
Drafting
Emotional Intelligence
Legal Research
Legal Writing
Litigation
Negotiation
Oral Argument
Problem Solving
Trials
Use of Technology
Q. I would recommend this lawyer to my family and friends
Yes