Lawyer Rating and Reviews
Ethics and Professionalism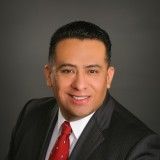 We trusted Marcos with registering and protecting our trademark. Marcos' work was impeccable and his fees were very reasonable. Moreover, once our trademark was challenged Marcos proved an adept negotiator in securing a great result for us.
View More
›
Q. How do you know this lawyer?
Current or Former Co-Worker/Colleague
Other
Our firm hired Marcos to assist us in registering our trademark with the USPTO.
Q. In the cases you were involved in with this attorney, which of the following apply?
Represented Me or My Company
Marcos represented my firm in securing and defending our trademark.
Q. When did you work with this lawyer?
Since September 2018.
Q. Was this lawyer an effective advocate/counselor and why?
Yes
Marcos assisted us in registering our trademark with the USPTO. He has since assisted us with challenges to our trademark.
Q. Please rate this lawyer on the following:
Legal Knowledge:
Excellent
Marcos knew of the process required for registering our trademark and was a very effective guide throughout.
Legal Analysis:
Excellent
When a challenge was presented to our trademark, Marcos was able to explain the challenges and potential pitfalls of different approaches to said challenge.
Communication Skills:
Excellent
Marcos always communicated promptly. I always felt I could reach him if I had any questions.
Ethics and Professionalism:
Excellent
Marcos demeanor and ethics are beyond reproach. He maintains the highest level of professionalism.
Q. For which practice area(s) would you recommend this lawyer?
Intellectual Property
Q. Which of the following skills does this lawyer possess?
Negotiation
Oral Argument
Q. I would recommend this lawyer to my family and friends
Yes