 Ethics and Professionalism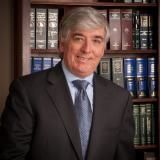 Tom is one of Atlanta's preeminent worker compensation attorneys. He has invested enormous time in acquiring both the skills and the ethics necessary to maintain his top rating.
View More
Q. How do you know this lawyer?
Tom and I met many years ago when we shared a client who needed help from both of us. There have been innumerable referrals since that time to Tom.
Q. In the cases you were involved in with this attorney, which of the following apply?
I represented the client for her probate needs. She had issues involving a worker's compensation issue needing resolution. I referred her to Tom who assisted her in resolving the worker compensation
Q. When did you work with this lawyer?
During 2017.
Q. Was this lawyer an effective advocate/counselor and why?
Yes
Tom understands worker compensation laws and cases very thoroughly. He is especially knowledgeable in matters concerning the death of an employee.
Q. Please rate this lawyer on the following:
Legal Knowledge:
Excellent
Tom understands the rules concerning the benefits afforded survivors of a deceased employee. He is quite empathetic and very understanding of his clients and their problems.
Legal Analysis:
Excellent
Tom is quick to find the right answer whenever I refer clients to him to review their cases.
Communication Skills:
Excellent
Tom's office is equipped to allow meaningful communications with his clients. All of my clients have spoken highly about Tom's ability to help them understand their situation.
Ethics and Professionalism:
Excellent
Tom has strived for years to maintain the highest standards of our profession. He has led several worker compensation attoreny associations.
Q. For which practice area(s) would you recommend this lawyer?
worker's compensation
Q. Which of the following skills does this lawyer possess?
Client Relations
Collaboration
Negotiation
Problem Solving
Q. I would recommend this lawyer to my family and friends
Yes