PREMIUM
Lawyer Rating and Reviews
Ethics and Professionalism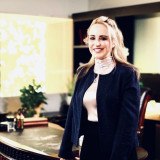 Ms. Meyrose is an outstanding lawyer and colleague who is prepared to always offer her best foot forward to her clients.
View More
›
Q. How do you know this lawyer?
Originally through school.
Q. In the cases you were involved in with this attorney, which of the following apply?
Different Client, Same Side of Case
Opposing Client
I Represented Them
In different capacities over the years, Ms. Meyrose and I have been on opposing sides, have assisted the same client before, or have simply assisted each other with our own clients.
Q. When did you work with this lawyer?
This past year
Q. Was this lawyer an effective advocate/counselor and why?
Yes
She effectively counseled me on advanced matters of probate and guardianship
Q. Please rate this lawyer on the following:
Legal Knowledge:
Excellent
She is not only knowledgeable but has wise judgment in highly difficult situations.
Legal Analysis:
Excellent
When providing legal analysis Ms. Meyrose provides her reasons and legal analysis under the law and does not just give ball park answers.
Communication Skills:
Excellent
Ms. Meyrose is a highly effective communicator with terrific bedside manner with clients as well.
Ethics and Professionalism:
Excellent
Ms. Meyrose is always quick to consider making sure everyone is kept on notice properly as required under the rules while also taking into account any other inherent conflict of interest considerations that might pop up in advance.
Q. For which practice area(s) would you recommend this lawyer?
Probate, guardianship, conservatorship and estate planning
Q. Which of the following skills does this lawyer possess?
Business Advising
Client Relations
Dispute Resolution
Drafting
Emotional Intelligence
Negotiation
Problem Solving
Q. I would recommend this lawyer to my family and friends
Yes