PREMIUM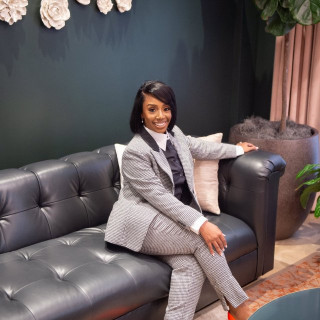 What Clients Are Saying
12 Recommends
Tanesha Fisher-Cager
Recommends
July 16, 2022
Amazing Experience!
After working abroad for almost ten years, I repatriated home with my small children independently during a divorce. It was important for me to have black female representation because I wanted someone who looked like me, was relatable and was well versed in her craft. Attorney Aaron was absolutely phenomenal... from the start of the process while I was overseas to keeping me thoroughly informed of my case's status, to handling all of the paperwork seamlessly, to ensuring we arrived stateside
safely, and even ensured I made deadlines for other business affairs. She is the G.O.A.T., and she knows family law like the back of her hand! I highly recommend Attorney Aaron for anyone needing legal representation, you won't be disappointed! Thanks again, Attorney Aaron and the Family Matters Law Group.
View More
Altravise D.
Recommends
June 27, 2022
Parenting Plan Revision Success!!!
I found attorney Aaron by doing a Google search and after reading the reviews I gave her office a call. I am so glad that I did! I was needing a revision of the parenting plan that I had in place with the father of my children. It was almost impossible for us to come to any kind of agreement, so I knew I needed a great lawyer. From my first conversation with attorney Aaron, I knew she was the one! She is sharp, caring, aggresive, attentive, prompt and what I liked most, a no-nonsense type
of person. This was true for the rest of her staff as well. They were clear about what they needed of me and I never had to question if they were doing what they needed to do. The staff stayed on top of my case and in the end, I ended up with exactly what I desired and more. I am very pleased with the outcome of my case and I would totally recommend them or use them again.
View More
Betty A.
Recommends
September 2, 2021
Divorce case
I cannot say enough positive things about Mrs Edidiong Aaron and the Family matters law Group team. Navigating divorce and difficult exes is never a pleasant experience I remember how I find this law group after searching for a good law firm to represent me true google and decided to visit the office. But wasn't convince about them offering an excellent representation. I walked in with the feeling of uncertainty before the conversation began but Mrs Edidiong Aaron quickly put me at ease and made
a tough situation feel manageable. Mrs Edidiong listens completely and answers thoughtfully. Her advice is practical, logical, and proved to be spot on in every instance. Mrs Edidion Aaron is strategic and pragmatic in her practice and I felt like I had a true advocate in my corner throughout the process and for that, I'm so incredibly grateful. I highly recommend The family matters law group should you find yourself needing an amazing, caring, A+ advocate!
View More
Candy R.
Recommends
August 4, 2021
Best Decision Ever
Where do I start? There are so many things that I can say about my experience with the Family Matters Law Group. I'll try to keep it brief but lay out my experience from beginning to end. Confidentiality The level of confidentiality that I received while working with Attorney Aaron's law firm is TOP NOTCH. She has her appointments and office flow set up in such a way that protects your integrity in the case that clients happen to know of each other. I have never seen any of her clients,
and it took two years for my case to conclude. Compassion. As a single parent, I was slightly intimidated by the fact that my child's father (who had been completely absent at the time for 7 years) made 3 times my salary and had me served with paper requesting my daughter's name change, custody, child support, and a travel stipend (to name a few from the ridiculous list). I was and had never been the parent to keep my child from her father. However, it was his choice not to be a part of her life, so being served with paperwork that made such outlandish requests was a total shock to me. I explained to Attorney Aaron that I was 100% in favor of them building a relationship but wanted to make sure that my child was protected as hit with minimal emotional distress from the abrupt nature of the situation. We sat down TOGETHER and drafted a parenting plan. She listened and made sure that she addressed my concerns within the plan. Graduated visitation was my preference, and that is what she fought for my daughter to have. She works for YOU. The lady doesn't play. She gave me deadlines to meet so that her office sent everything to the courts promptly. My case dragged on for two years because the father did not adhere to his counsel's requirements and ignored requests from Attorney Aaron and the courts. The estranged father and I should have been resolved in mediation, but I promise you it felt like the father just wanted me to keep paying more money. It didn't matter because Attorney Aaron was worth EVERY. PENNY. The same parenting plan Attorney Aaron presented to my daughter's father during the first 6 months of the case is the same plan that the father ultimately accepted. I could not have navigated this without the help of the Family Matters Law Group. I found Attorney Aaron from a google search of family law attorneys in Clayton County. I read every single review that was provided and felt comfortable with pulling the trigger. I couldn't have made a better choice. Period. She is the Simone Biles of Family Law. I don't anticipate needing her again, but I definitely would recommend her to anyone that needs representation.
View More
S. B.
Recommends
April 23, 2021
Excellent Outcome and Piece of Mind
I was lucky enough to have Attorney Aaron and the Family Matters Law Group recommended to me by a family friend. I had been in and out of the court system over the past several years battling custody issues with my ex. Having gone through 3 prior attorney's before finding them, and being a Male seeking custody in a mostly conservative system, let's just say that my chances and hopes weren't at an all time high of obtaining an outcome that I would deem satisfactory. I listened intently to her
team and followed her instructions to a T, and the outcome that I received was much greater than my expectations. 5 stars is not enough to rate the service, respect, attentiveness, responsiveness and outcome that I received. I would highly recommend utilizing Family Matters Law Group!
View More
Kiana C.
Recommends
March 11, 2021
Very accommodating and professional I hired attorney Aaron 6 days before my court hearing. Although we didn't have much time, she and her staff worked around the clock to make sure I was prepared for court. Her staff was incredibly friendly and attentive. This was my first time in family court and they helped to east a lot of nervousness and uncertainties.
T. Loyal
Recommends
November 5, 2020
Look No Further !!
After doing an extensive search I ran across Family Matters Law Group online. After reading the reviews I decided to consult with Attorney Aaron about my divorce case. The first day I spoke with Attorney Aaron I instantly knew she would be the perfect fit for my case. Her professionalism, knowledge, patience, demeanor, and the overall welcoming to her office made me feel as though she as well as her amazing staff cared about my case. The staff at Family Matters Law Group are very prompt when
getting things done. Everything that I asked for in my divorce Attorney Aaron made sure it happened and I'm forever grateful. If you're looking for an Attorney that's a beast when it comes to litigating then look no further. I could go on and on but this law firm is definitely your go to if you're looking for someone to handle your case. Special thanks to Arian and Enjoli for doing such an amazing job as well. I give this Law firm ten plus stars.
View More
Alicia P.
Recommends
October 12, 2020
Simply The Best Attorney
My experience with the team at Family Matters Law Group can only be described as exceptional. I found this firm via an internet search and the search result turned out to be a blessing. Throughout each step of the process, Attorney Aaron and her staff provided a true sense of comfortability and assurance that my case mattered, which was important to me as a female. The advice I received was always timely, thorough, and fair; covering every possible outcome, so I could make as educated a decision
as possible. In a time where many in the legal field will tell you what you want to hear, as long as the check clears, this was refreshing. They say preparedness breeds confidence. Well, as a result of Attorney Aaron's depth of knowledge of my case and applicable case law, I was able to walk into court brimming with it. Not only did I come out victorious, on both occasions I was represented by Attorney Aaron, I received everything I asked for. This wasn't happenstance. It was a testament to her competence, proficiency, and command of the court room. Opposing counsel didn't stand a chance! I hope I never have to file contempt of court regarding child custody again, but if I must for that or anything relating to family law, the first and only call for representation will be to Family Matters Law Group!
View More
Morris S.
Recommends
May 4, 2020
Child Custody
My name is Morris S., In 2018 I was in need of legal assistance concerning a child custody case. I decided to do a google search looking for a female attorney. I came across the Family Matter Law Group and reading upon Attorney Edidiong Aaron, one of the things that cought my attention was that Fathers Matter Too! An advocate of a father's right, I knew my search had ended. Through a process of legal matters, I was awarded custody of my son in 2019. I want to thank Attorney Edidiong Aaron and
her legal team at Family Matters Law Group.Thank you for the constant communication through the entire process. MEN, your search ends here!
View More
Natalie D.
Recommends
March 25, 2020
Best Experience ! After so many years, of looking for the correct lawyer, I finally found one that exceeded my expectations. Attorney Aaron is impressive in what she does. Very knowledgeable. I received legal and primary custody of my kids and now we can go on with our lives! As a single mother, looking for the correct lawyer is essential.
Sabrina T.
Recommends
March 13, 2020
Phenomenal Attorney
Where do I begin. When I came to see Attorney Aaron for a consultation I was completely broken, lost and I didn't have any hope. After our meeting I knew God had lead me to the right law firm and the right attorney. She not only won my case, but EXCEEDED my expectation. I was in a very mentally abusive marriage and he was trying to force/bully me into a crazy custody and child support agreement. Attorney Aaron held my hand, guided me, gave me reassurance and the strength to stand up for myself
and fight back. If you are on the fence about having her represent you DONT be! Hire her, you will not regret it. I have personally referred two close friends to her that are going threw messy divorces because I know they will be in GREAT HANDS!
View More
T. Darling, MBA, PMP
Recommends
February 6, 2020
She will get it done!
Honestly, this has been the best experience ever. It was funny how I found Family Matters Law group...I did a general search on Google and read the reviews. I saw a familiar face on a guy I went to school with who won full custody of his daughter after 10+ years. He continued to explain how great this firm was. This law group is patient and kind and they really took care of my needs in every way. I am a young female who did not have any knowledge about law and I needed to be sure that I
would have all my needs met to have sole legal and sole physical custody of my baby girl. P.S. 5 stars is an understatement
View More